LA VISIONE A DISTANZA
poetry and conceptual writing
Language: Italian
Arcipelago Itaca
Ancona
2018
Alessandro De Francesco, La visione a distanza, Arcipelago Itaca, 2018
196 pp., 16 €
La visione a distanza contiene buona parte della produzione poetica di Alessandro De Francesco fino ad oggi. È tuttavia da intendersi come libro unico e non come raccolta, dato che le sezioni che lo costituiscono sono strettamente interconnesse, anche quelle scritte a distanza di più anni. Alcune sezioni sono inedite in Italia o inedite tout court, altre sono state precedentemente pubblicate in libri e riviste. La visione a distanza, uscito presso Arcipelago Itaca nella collana "Lacustrine" diretta da Renata Morresi, è il primo libro italiano di Alessandro De Francesco dalla pubblicazione di Ridefinizione (La Camera Verde, 2011).
THREE POETIC ENGINES - TROIS ENGINS POÉTIQUES
artist book, 25.3 x 30 cm, 120 p.
Language: French, English, Italian, German
éditions MIX., Paris & Le Fonds Belval, Luxembourg
2016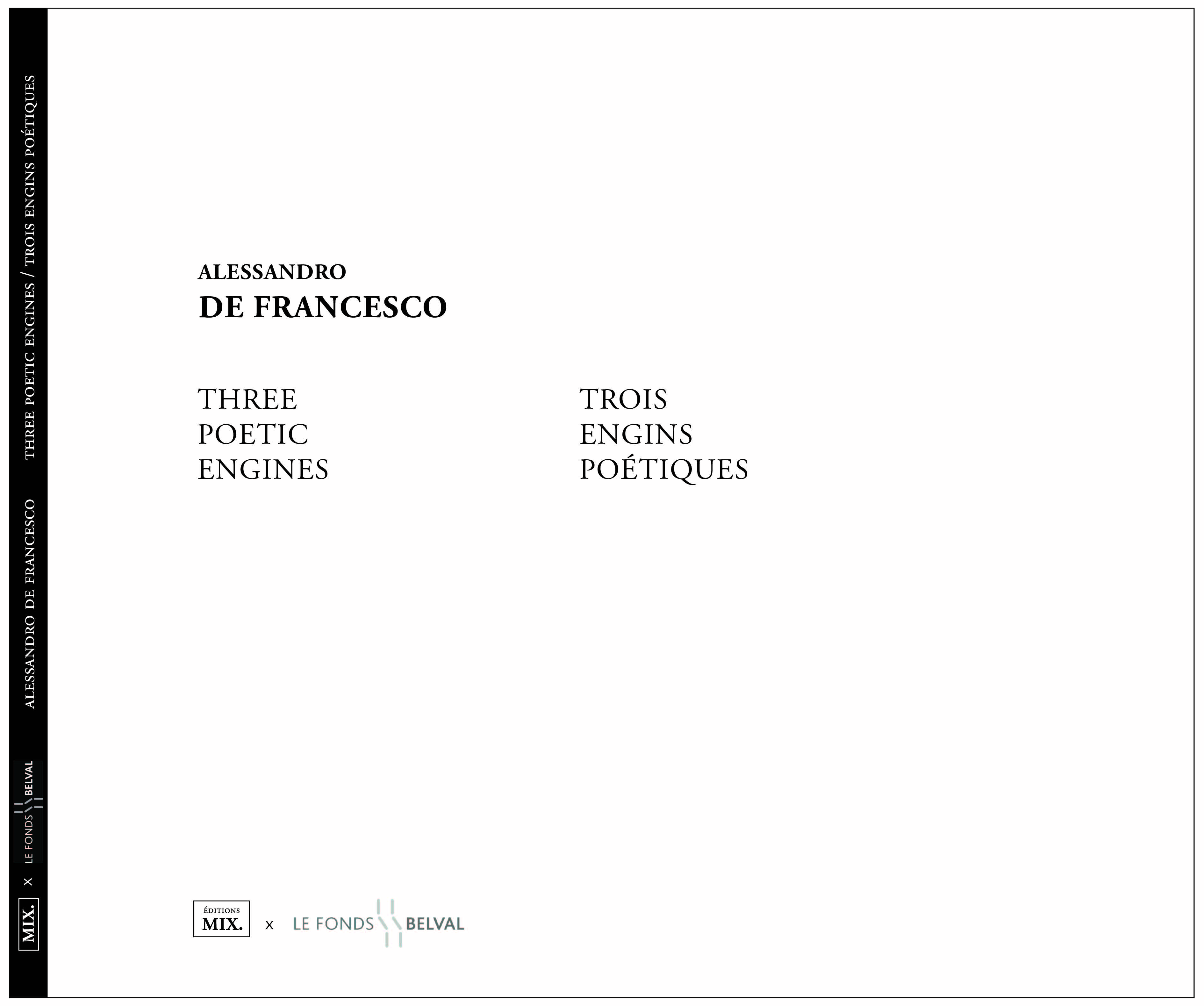 Photo © Michael Pinsky
With texts by Stéphanie Delcroix and Hubertus von Amelunxen
Download the introduction in English HERE

Télécharger ICI l'introduction en français
Order HERE
REMOTE VISION
poetry and conceptual writing
Language: English and Italian
Punctum Books
New York
2016
Alessandro De Francesco, Remote Vision. Poetry 1999-2015
Translated into English by Belle Cushing and Dusty Neu.
Typography by Vincent W.J. van Gerven Oei.
Dual-Language English-Italian edition, 342 pages, 22 x 22 cm.
New York: Punctum Books, 2016
http://punctumbooks.com/titles/remote-vision-poetry-1999-2015/
REMOTE VISION represents, in English and Italian, the most significant works in poetry and conceptual writing produced by Alessandro De Francesco to date. It is both a coherent book and the most exhaustive collection of his poetry ever published in any language. All sections have been rearranged for this publication, with each one containing the complete English text followed by the complete Italian version. The texts have been beautifully translated by poets and Brown University alumni Belle Cushing and Dusty Neu, under the coordination of the acclaimed poet and Comparative Literature scholar Forrest Gander. REMOTE VISION condenses and presents under a new light the conceptual and emotional intensity of Alessandro De Francesco's poetry.
Buy it HERE
LA VISION À DISTANCE
poetry and conceptual writing
Language: French
éditions MIX.
Paris
2016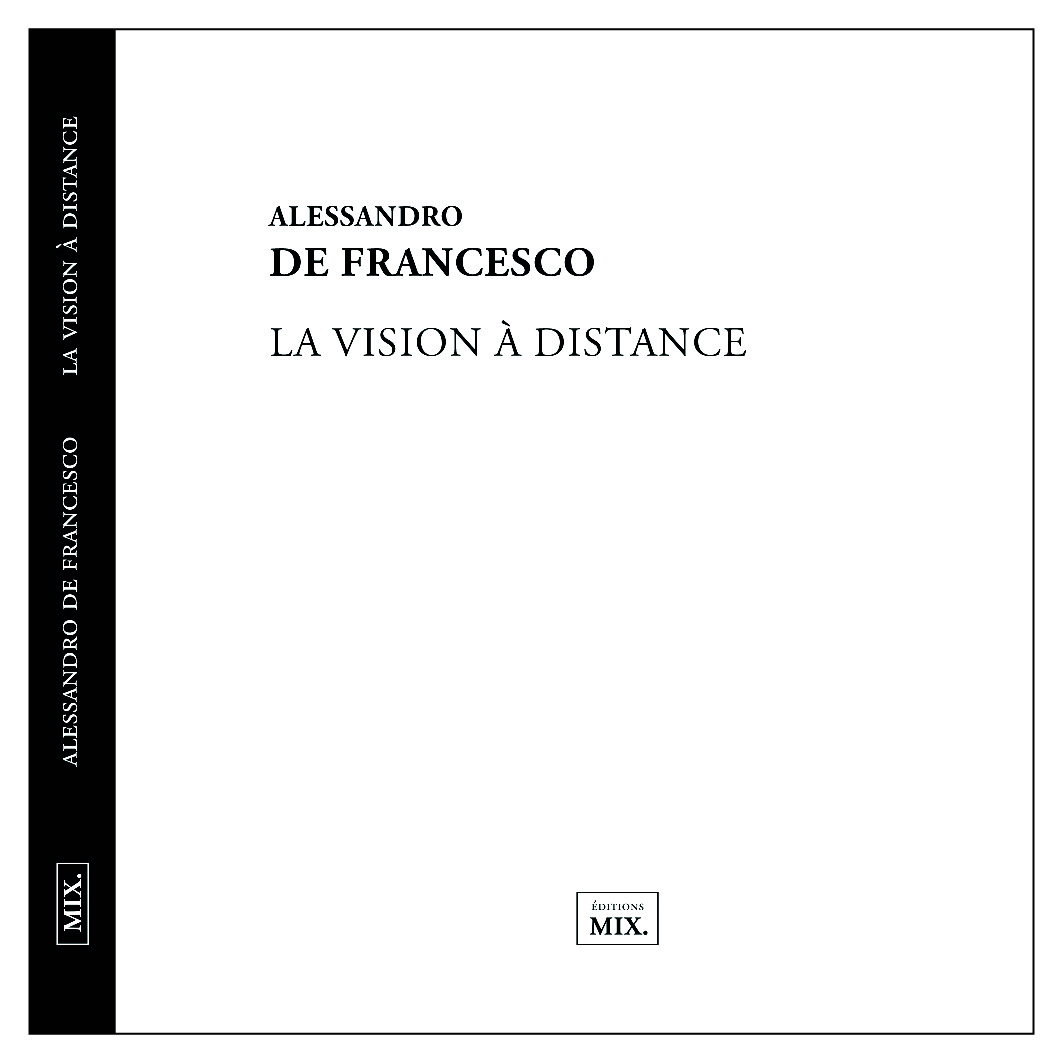 La Vision à distance est le deuxième livre de poésie publié par Alessandro De Francesco aux éditions MIX., après Redéfinition (2010). La Vision à distance continue à explorer et à faire interagir de façon nouvelle les questions qui hantent la production de ce poète-artiste : l'inconnu et l'inconnaissable, la violence et la guerre, la technologie et l'information, la phylogenèse et l'ontogenèse des êtres. Il contient cependant des textes appartenant à des époques différentes, dont certains, comme Le Déplacement des objets, écrits avant Redéfinition mais présentés ici pour la première fois en traduction française.
Alessandro De Francesco - La Vision à distance
Traduit de l'italien en français par Alessandro De Francesco, Fabien Vallos et Caroline Zekri, avec la collaboration d'Emilio Sciarrino
Soutenu par une Bourse de création du Centre national du livre (www.centrenationaldulivre.fr)
Paris, éditions MIX., 2016
136 pages, format carré 17 x 17 cm
20 €
Pour le commander, cliquer ICI
CONTINUUM. WRITINGS ON POETRY AS ARTISTIC PRACTICE
essays
Language: French, Italian, English, German
Uitgeverij
Tirana / The Hague
2015
This book reunites the most part of the essays and articles produced between 2007 and 2015 by poet and artist Alessandro De Francesco. It shows what De Francesco himself affirms at a point in the last text of the book: that an artist can also be a theorist, and that artistic practice and theoretical practice are difficult to distinguish in his work. This book is multilingual: each text was left in the language in which it was written. Therefore, it is predominantly in French, but Italian, English and German are also represented. In spite of poetry being at the center of Alessandro De Francesco's interests as a thinker, the texts contained in this book are very heterogeneous: poetic statements, essays, scientific articles, lectures, interviews; and yet they also show a deep continuity. Continuum stands for the author's uninterrupted commitment for poetry, for the numerous connections among the approached themes, and especially for the innovatory theoretical and political positions expressed here, from which all these writings originated.
Alessandro De Francesco, Continuum. Writings on Poetry as Artistic Practice / Écrits sur la poésie comme pratique artistique / Scritti sulla poesia come pratica artistica, The Hague / Tirana: Uitgeverij, 2015, 564 p., 18 €. Get more information and buy it HERE.
AUGMENTED WRITING - SCRITTURA AUMENTATA - ÉCRITURE AUGMENTÉE
artist book, 35 x 45 cm, unp.
Language: multilingual
La Camera Verde
Rome
2013
Photos © Benjamin Hugard
With texts by: Judith Balso, Robert Cahen, Giulio Carmassi, Belle Cushing, Jean Daive, Jeremy Fernando, Jean-Marie Gleize, Alfonso M. Iacono, Paolo Ingrosso, Massimiliano Manganelli, Giulio Marzaioli, Marco Mazzi, Nina Parish, Fabien Vallos, Vincent W. J. van Gerven Oei, Sandrine Wymann, Caroline Zekri.
RIDEFINIZIONE
poetry and conceptual writing
Language: Italian
48 p.
La Camera Verde
Roma
2011
Ordina QUI
REDÉFINITION
poetry and conceptual writing
Language: French
80 p.
Mix.
Paris
2010
da 1000m - dès 1000m - from 1000m
conceptual writing
Trilingual e-book: italian, english, french, HGH, on www.gammm.org (march 2009)
Download HERE
LO SPOSTAMENTO DEGLI OGGETTI
poetry
Language: Italian
60 p.
Cierre Grafica / Anterem
Verona
2008
Nota di Flavio Ermini
Riflessione critica di Martin Rueff
Collana «Opera Prima» diretta da Flavio Ermini, con la collaborazione di Yves Bonnefoy, Umberto Galimberti e Andrea Zanzotto
SOLD OUT