Alessandro De Francesco, Help, video installation loop (1', colour, sound)
Alessandro De Francesco, ((( - Film, a videopoem - reading environment (11'30'', colour, sound)

Alessandro De Francesco's intervention at the Munich Academy of the Arts in the framework of the symposium on poetry and science "Eins: zum Andern" (language: English):

Alessandro De Francesco's lecture Poésie et poièsis. Degrés d'immatérialité du langage, de l'objet et de l'image at the "Arts & Langages" symposium curated by Fabien Vallos, LUMA Foundation, Arles, 2018 (language: French):

Alessandro De Francesco's 2012, 2013 and 2015 evening lectures-readings at the European Graduate School. Evening lectures at EGS are open lectures for EGS students, teachers and any kind of public. EGS evening lectures include Alain Badiou, Giorgio Agamben, Judith Balso, Judith Butler, Mike Figgis, Peter Greenaway, Rem Koolhaas, Werner Hamacher, Avital Ronell, and many others.

Letture di Alessandro De Francesco e di Antonio Syxty da (((, edizioni Arcipelago Itaca, 2020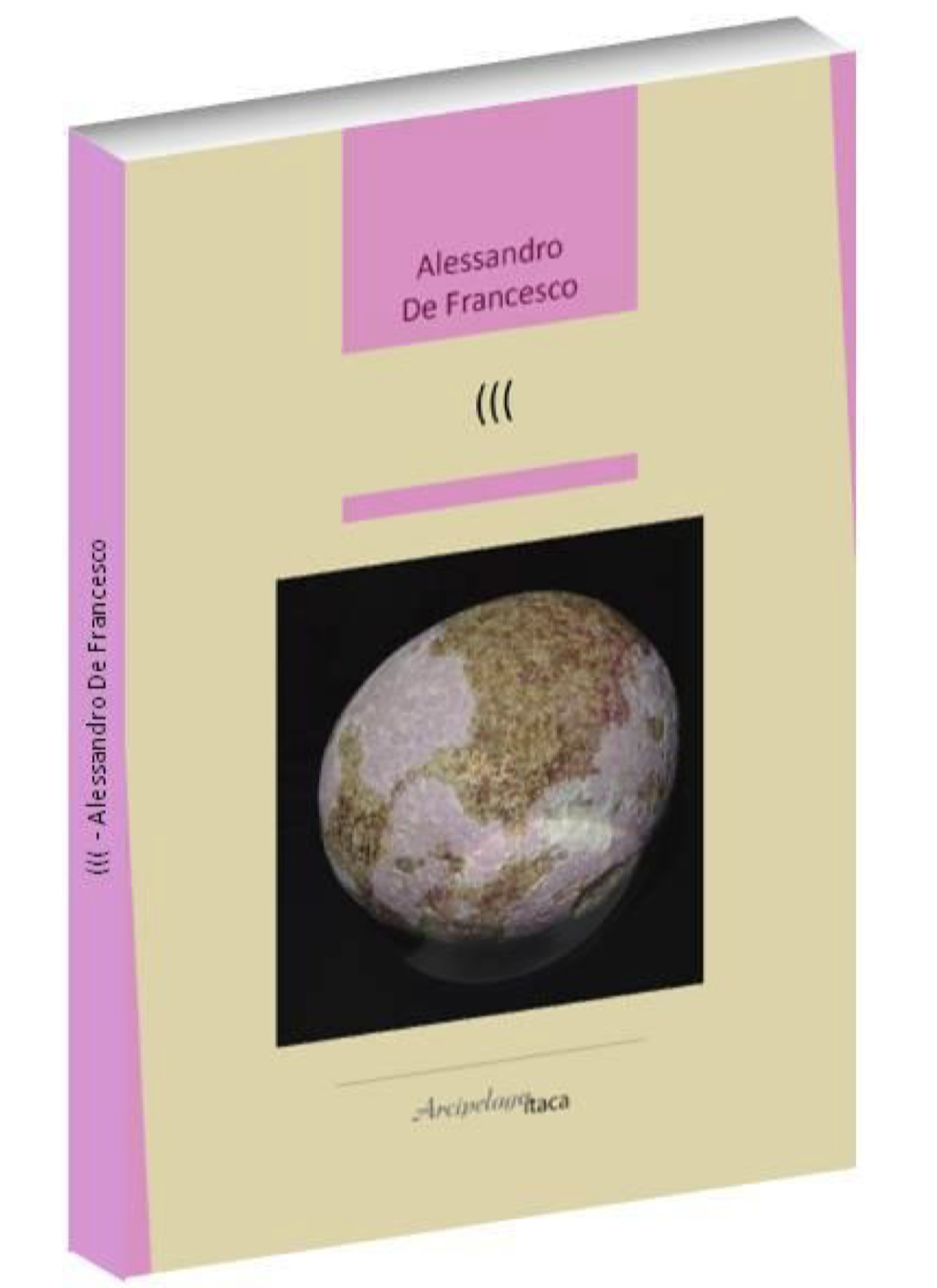 Alessandro De Francesco, Giulio Marzaioli and Antonio Syxty discuss about translation and poetry starting from Alessandro's Italian translation of Be With by Forrest Gander (Benway Series, 2020), on MTM TV, Milan, January 2021 (Language: Italian). More information about Forrest Gander's work to be found HERE.
Forrest Gander with Alessandro De Francesco at the Teatro Comunale di Casalmaggiore, Italy, October 30th 2021.

Alessandro De Francesco, Je cherche des trous dans l'histoire, je recherche des trous dans cette histoire, video loop for the exhibition "Favorinos", Musée départemental de l'Arles antique, Arles, May 2019, curated by Fabien Vallos and Laetitia Talbot (more info HERE):

Alessandro De Francesco and Michael Pinsky
Videopoems for BeHave - Public Art Experience artistic residency program, Luxembourg (2015)

Alessandro De Francesco & Paolo Ingrosso performing Ridefinizione as a reading environment at the STEIM (Amsterdam)
Recorded and produced at the STEIM in January 2009
Alessandro De Francesco: texts, voice
Paolo Ingrosso: live voice digital processing
Or click on numbers to play clips:
The complete audio HD version is downloadable on the iTunes store (Miraloop records)
A reading environment is a reading where the text is processed through spoken voice digital treatments and multi-channel spatialization.

Alessandro De Francesco and translator Belle Cushing at the Kelly Writers House, U-Penn, Philadelphia, on September 12th 2013, introduced by Philippe Met: watch the video HERE

Lecture Augmentation, supplément, distorsion : entre écriture, image et objet, at the ENSP Arles, France, March 29th 2016 (Language: French).

Lecture on poetry and contemporary art at La Panacée - Centre de culture contemporaine, Montpellier, France (Language: French).

Lecture on "Augmented Writing" at the Gaîté Lyrique, Paris, as an opening of the research program on writing of the ESAG Penninghen Design School, on October 2nd 2013 (Language: French).

Alessandro De Francesco interviewed by Marco Mazzi on poetry and photography (Language: Italian). Watch on Vimeo:

Alessandro De Francesco interviewed by Vincent W.J. Van Gerven Oei at Kunsthuis SYB, The Netherlands (Language: English). Watch on Vimeo:

Vito Acconci, Alessandro De Francesco, James Hoff and Danny Snelson at the Centre Pompidou in Paris (languages: French and English): click HERE to watch

Manuel Billi and Alessandro Brucini's making of clip of Alessandro De Francesco's reading environment o.m. (Kunsthaus Tacheles, Berlin, 2005)
Click HERE to view

Lo spostamento degli oggetti, reading environment at Ausland, Berlin, 2007.
click HERE to play video 2
click HERE to play video 3
click HERE to play video 4